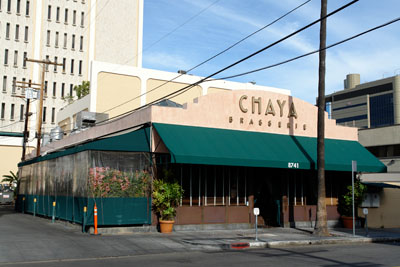 Chaya Brasserie
8741 Alden Dr
Los Angeles, CA 90048
USA
+1 (310) 859-8833
www.thechaya.com
Fusion French – Japanese
Restaurant: 3/5
Chaya Brasserie is located in heart of WeHo (West Hollywood). Because of it's proximity to popular places on Robertson boulevard like The Ivy, parking in the area can be difficult. A good way around is to use their valet parking. The restaurant is very comfortable with a nice Asian themed decor. While the decor is very nice, more attention should have been put to the acoustic of the place as it is very noisy for a restaurant.
Service: 3/5
The service was very good. The staff made every effort to accommodate us. One thing, they could do with a bit more staff on busy nights like Saturday.
Food: 3.5/5
As main course, we ordered 3 portions of the chef entrée selection to be shared between the 2 of us. The entrée selection included escargots cooked with mushrooms in a traditional butter parsley and garlic sauce, seared tuna sashimi, jumbo shrimp cocktail, egg rolls, fried calamari and shrimp rolls. This allowed us to tried a wide variety of food. Everything was very good with a special mention for the seared tuna sashimi that was clearly above everything else.
As desert, we shared a desert sampler. The desert sampler included a molten chocolate cake served with a red fruits coulis, a coffee creme brulee and a kind of ladyfinger cake with chocolate and ice cream. Again, everything was very good. I particularly appreciated the molten chocolate cake.
Value for money: 3.5/5
Around $50, including drinks (cocktail, sparking water, espresso) and tip. You should expect to pay a bit more depending on what you order. Still, considering the very hip neighborhood and the food, Chaya Brasserie offers very good value for money. I will definitely come back.