Jensen's Bøfhus
Södra Förstadsgatan 1
211 43 Malmö
Sweden
+46 (0) 40 97 96 97
www.jensens.se
Steak house
Restaurant: 2/5
Jensen's Bøfhus is a casual restaurant located in the center of Malmö. The restaurant is relatively comfortable and has a simple pub decor.
Service: 2.5/5
The service was good but a bit slow. Our waitress made genuine efforts to please us.
Food: 2/5
As starter, I had the snack basket that comprise onion rings, mozzarella sticks, potato waffles and cheese and jalapeño nuggets served with spicy tomato sauce and white sauce. While a bit heavy (all deep fried), everything was good.
As main course, I had the favorite steak. The steak, tender and juice was excellent. It was served with a tomato, potatoes and a paprika sauce that was both a surprising and perfect complement to the steak.
As desert, I had the queen's delight. The queen's delight is a soft vanilla ice cream topping a waffle and served with chocolate sauce, nuts and strawberry jam. The ice cream was very good but the waffle was a bit too sweet to my taste. The jam, overly sweet, was unnecessary.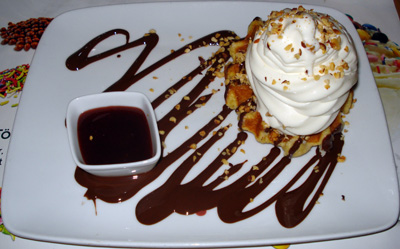 Value for money: 3/5
Around $50, including drinks (pear cider) and tip. Considering the food, the location and the current strength of the Swedish Kronor, Jensen's Bøfhus offers good value for money. I'll come back.