The Belvedere
Peninsula Beverly Hills Hotel
9882 Santa Monica Blvd
Beverly Hills, CA 90212
USA
+1 (310) 551-2888
beverlyhills.peninsula.com
Modern American Cuisine
Restaurant: 4.5/5
The Belvedere is located at the Peninsula Hotel, in the heart of Beverly Hills. The restaurant, with it's traditional decor, is really comfortable. The patio at the back of the restaurant is really nice. I highly advise to get a table there is the weather is nice.
Service: 5/5
from the beginning to the end, the service was perfect. They really pay attention to every detail.
Food: 4.5/5
For brunch, you only have to select your main course. You get a selection of starters, served family style, and access to the desert buffet. The selection of started comprised their very famous macaronis and cheese, the organic beet salad, the sauteed prawns, the smoked salmon, the peking duck (carved in front of you in the dining room) and the fruit salad. The macaronis and cheese were absolutely spectacular. Definitely the best I had so far.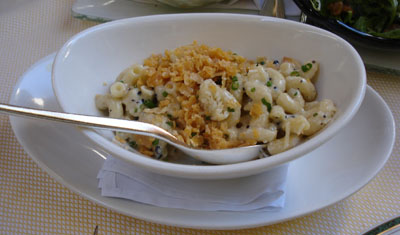 The organic beet salad was served with tomato, arugula, nuts and a well balanced sauce.
The sauteed prawns, served with crispy noodles on the top of cabbage, were excellent.
The smoked salmon with it's mustard sauce was very good.
The peking duck, served ready to eat in pancakes with spring onions and sauce is definitely one of the best.
The fruit salad had nothing remarkable but was pretty good.
As main course, I had the potato crusted chilean sea bass. The sea bass was perfectly cooked with the potato bater being crusty and the fish being juicy and flavorful. it was served with orange quarters on the top of vegetables.
The desert buffet is pretty extensive and should satisfy about everybody. The plum clafouti and the warm bread pudding were truly excellent. Unfortunately, I found the rest of the deserts overly sweet.
Value for money: 4.5/5
Around $100, including drinks (orange juice, water and espresso) and tip. Considering the restaurant, the service, the food and the location, The Belvedere is a excellent value for money. I will definitely come back.